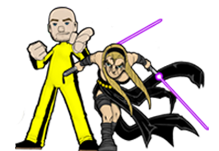 We review fantasy, sci-fi, steampunk, urban fantasy, comic books/graphic novels and more, as well as post major news that might concern readers. Living in the LA area, we often attend conventions here in southern California, so keep an eye out for interviews during convention season.
---
Review Policy & Blog Disclaimer:
We gladly (and routinely) accept ARCs for most fantasy, sci-fi and steampunk novels, but we also buy plenty of our own books. Please contact me at xaraan(at)gmail(dot)com if you are interested in having a book reviewed. We normally

won't be able to

review self-published or ebook-only editions at this time.
---
Reading Realms networking:

Although I usually link anything we do here on my own feeds as well, we wanted to create a social network for Reading Realms for readers that want their feed to stay book/site-focused.







Subscribe, network with us on social sites or email us.
---
Jeremy Shane
Follow @jeremyshane
Hello. I run Reading Realms and do a great deal of the reviews and news posting here. I'm also a contributing editor for The Outhouse pop-culture geek-site, but always wanted books to stand apart from all my other geek stuff, so I started this site. To pay bills though I do photography and some design work. If you want network with me, check out
jeremyshane.info
, it will have all the connections you need.
---
Angela
Jones
Follow @AlimaDusana
A veracious reader that I often beg to do reviews for me. She also does stuff to actually earn a living besides helping me on this blog, like working at a community center, teaching music and bellydancing professionally.